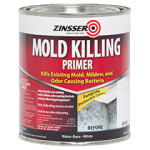 MOLD KILLING PRIMER
Zinsser Mold Killing Primer is a water based fungicidal protective coating that can be used to paint over all existing mold, mildew, moss, fungi, odor causing bacteria and any other fungal organisms. The Mold Killing Primer contains an EPA registered antimicrobial to prevent the growth of mold, mildew and other fungal organisms on the paint film. The Mold Killing Primer also aids in covering residual microbiological and fungal stains.
Paint directly over mold
Kills existing mold, mildew, and odor causing bacteria
Binds chalky siding, masonry, and metal
EPA Registered
Interior/Exterior
Water-based
For stains caused by water leaks, allow Mold Killing Primer to dry then use a Zinsser stain blocking primer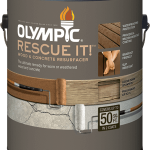 Olympic® RESCUE IT!®
Olympic® RESCUE IT!® Resurfacer is for worn or weathered wood and concrete. With the proper preparation, this 100% acrylic coating fills wood and concrete cracks up to ¼? deep. Don't replace it. Rescue it!
WHY YOU'LL LOVE THIS PRODUCT
Covers up to 50 sq. ft. in 2 coats per gallon
Locks down splinters and fills cracks up to ¼?
Creates a barefoot friendly, finely textured, slip-resistant finish
Provides waterproofing protection
Comes with step-by-step preparation instructions

Recommended for use on horizontal and vertical concrete and wood surfaces:

Structurally sound old, gray weathered wood (decks, stairs, posts and railings and more)
New wood when a non-slip, textured surface is desired
Aged rough, broom-swept concrete (sidewalks and patios)
New concrete surfaces cured for 30 days
Retaining walls